Why leave a member of the family such as our faithful four-legged friends at home? In this article we speak about how to travel to Italy with a dog.
From the Alps to Sicily, there are more and more offers available so you can discover and visit Italy in the company of your dog.
The warm weather is coming along with much awaited for vacations: whether in the mountains or the sea, the art cities or the small villages that Italy offers. Choosing the perfect destination is never simple and may bring a further dose of stress that will certainly not help before your much-desired period of relaxation.
If you need to organise our holidays with your dog, there are even more problems. You need to think about what means of transport to use, where to go and what to do, all compatible with the needs of your four-legged friend. Your dog is a member of your family to all effects and purposes. Even though there are more and more dog sitters and kennels for animals that take care of them whilst the owners are away, why leave your adored furry friend on its own during a fun and carefree time such as holidays or weekends?
Italy is in fact making great inroads in the field of dog tourism and there are many structures and facilities in every geographical region that have spaces, activities and comforts for animals. Here is some advice and suggestions to help you visit Italy in the company of your dog.
Before leaving: a few pieces of advice to prevent nasty surprises
What should you put in your bag, who should you ask for useful advice and what can you do to cause the least stress to your dog? You need to be well prepared to travel with your dog so you can enjoy the relaxation of your vacation to the uppermost.
First of all you must remember his lead and muzzle, they will be indispensable when taking him on public transport, the beach, the train or the boat.
It is a good idea to consult your vet before leaving, he will be able to offer you specific advice and suggest how to ensure a pleasant stay without any risk.
If your dog suffers particularly from stress, you should have some of his favourite objects in your bag, so that he can feel relaxed even far from home.
You should also remember to carry an adequate supply of food that your dog is used to, so as not to change his daily habits drastically.
Ready, set, go: means of transport
When planning a trip with your faithful four-legged friend you should also take into account the means of transport, for your own wellbeing and his. Good logistical planning of the means of transport and awareness of certain rules can prevent unpleasant surprises.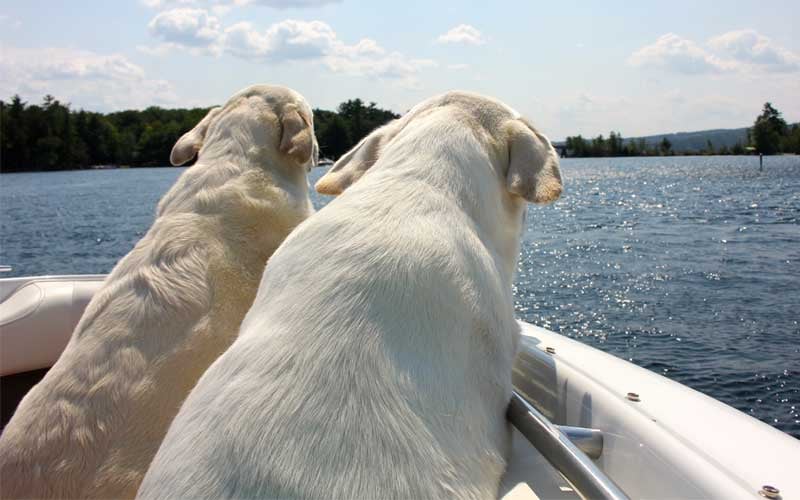 The car. Perhaps the most common means of transport for your dog

.

The Road Rules prohibit the transport of more than one domestic animal unless they are kept in a special cage or container or in the rear section of the car separated by a divider. You should also ensure that you don't travel too far without a stop for your dog. For this reason, there are a number of

"

Fidopark"

stops on the motorway. These are special areas for cats and dogs with veterinary services available if required.

Ship and ferry.

Each company has their own rules that you should be aware of. In general, medium and large sized dogs can travel with a lead and muzzle and

are accommodated in the

on-board kennel.

Small dogs can stay in the cabin and on deck if kept on a lead.

Train.

All steam ahead for the transport of your dog on the train but

remember that

only

one animal is permitted for each passenger

. Small dogs can travel in their carrier whilst medium and large dogs must be kept on a lead and have a muzzle.
Sea or mountain? The choice of destination
If you want to visit Italy with a dog there is much on offer. In Italy the beaches, mountains and also the great art cities or little towns know how to satisfy the needs of owners and their four-legged friends to offer everyone an unforgettable holiday.
Everyone at the sea: dog-friendly beaches that welcome your pets and offer special services are becoming more and more popular in Italy

.

What could be better than a day spent on the seafront relaxing with

your dog?

The beaches for dogs offer bowls, sun loungers, plastic bags and sometimes special activities

. Amongst the best equipped in Italy is

Animalido a Fano (Pu)

, an all-inclusive service with a welcome kit that includes a scooper, plastic bags and bowls, grooming services, dog-sitter, games area, veterinary support, vaporised air area to help with the heat,

constant presence of dog trainers and "deluxe" fenced boxes

, where you can let your pet run free.

Who said that Spot can't be with you on the slopes?

The Mountain is the trendiest spot for animal and nature lovers.

There are more and more mountain facilities that welcome your four-legged friends and offer them special services. In either summer or winter you can spend enjoy carefree moments on the slopes or experiencing

the majesty of nature, trekking along the many paths that climb the

mountains or losing yourself in the greenest meadows of our mountains.

With your dog at your side,

the Italian art cities are a must. These open-air museums

allow you to admire the most famous architectonic and artistic sights in the world. Riccione is particularly suitable for your four-legged friends, where the buzzing atmosphere of the Romagnola Riviera will even be transmitted to your pets. There are parks, attractions, special sights and beaches that welcome animals of every size. The long stretches of sand in this area is an excellent games park for

your furry friends. Tired of beaches and looking for a less-touristy spot? In Riccione you can climb the hill and visit the Castle of Agolanti, the setting for displays and exhibitions. You can take a relaxing walk to the Marano Park that extends along the Rio Marano,

perfect for a run or to enjoy the long tree-lined paths on the river

bank.

Another wonderful solution for those who love nature, relaxation and fine

cuisine are

holidays with dogs in Italian towns.

You

can explore lanes and alleys, towns and Italian castles all with

your dog. The

perfect holiday for those who want to avoid the more commercial traps and enjoy genuine relaxation

. Highly popular are vacations surrounded by the vestiges of a medieval past, gentle hills, mouth-watering local dishes and the breath-taking scenery of Perugia or Lake Trasimeno in Umbria. Castiglione del Lago, Tuoro sul Trasimeno or Città della Pieve are just some of the towns to be experienced in this area.

The perfect destination for dogs that can run free from the woods to the lake and unleash all their natural energy

, with works through untouched nature and strolls in small towns that are just perfect for tourists and their four-legged friends.
Dog-friendly tourism: Italy amongst the top destinations
Those with four-legged friends approach summer with trepidation: should I take Spot with me or leave him with a dog sitter or in a kennel. It's now clear, Italy is one of the top destinations for dog-friendly tourism. So let's forget the "I can't come in signs", Italy is increasingly open to holidays in company with your dog. You just need to find out what you need to take, the means of transport best suited to your four-legged friends and which destinations are best suited to their needs. Today the offers for those travelling with animals are multiplying from the north to the south of Italy and it is more and more likely that you will find initiatives designed for owners and their pets. At the end of the day he is man's best friend after all.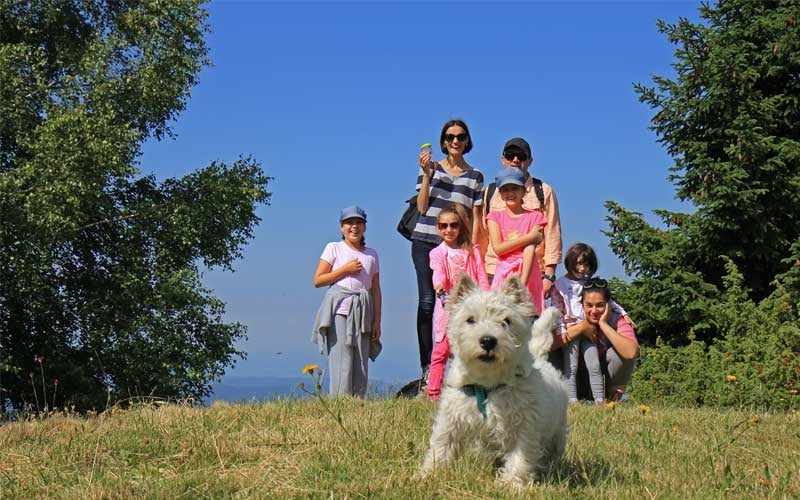 So there is no longer any excuse, visiting Italy with your dog is possible with much more available than you would have thought. Choose as you like between the sea or the mountain, art cities or authentic towns and take off to experience a memorable vacation with your four-legged friend. Why leave your pet at home? Find out about all the details and choose the structures, means of transport, parks and dog-friendly restaurants that offer activities, entertainment and relaxation for you and your pets, so that you can both enjoy the ultimate vacation.
Have you already looked at all the proposals? Discover them all!
Here's a small preview of the Villas thought for you in Le Marche region, near dog friendly beaches!