Those who are in love are in love each and every day and not only on Saint Valentines. What could be more beautiful than a trip away for a couple in Italy
to escape the routine of the office and enjoy relaxing moments alongside your soul mate?
Whether agreed upon together or a surprise gift, planned down to the smallest detail or "an adventure", a time for relaxation and meditation or to enjoy nightlife and entertainment, a weekend for two in Italy is always a delight for every couple. Let your imagination wild or be guided by the tastes of your partner in selecting a destination for your holiday for two in Italy.
There is a perfect solution for every couple that is rarely found in package trips. Customise your getaway and it will offer you the chance to surprise your partner and open you up to new possibilities and discussions. Don't worry if you are not great travel planners or seasoned explorers. Italy offers destinations for all tastes and pockets, whether they are close to home or at the other end of the peninsula.
The choice is endless if you are traveling by car. In any case, we suggest five destinations from the north to the south that may be ideal for your getaway. Suggestions that offer you stimulus to create the perfect customised honeymoon.
What is meant to be will be, but a romantic getaway for a couple in Italy is always a good idea!
Five ideas for a romantic getaway in Italy
Like a star at the Amalfi coast
It may be an Italian cliche, but after a drink on the balcony at sunset overlooking the famous Capri sea stacks, how could your partner resist you? It doesn't matter whether it's a honeymoon, a weekend for two or a week for nearly-weds. This is the home of romance par excellence that corner of Italy where the most original marriage proposals are made. It's impossible not to visit Amalfi with its works of art and churches. However, if you are looking for a more exclusive destination we suggest that you visit Ravello, with the Terrace of Infinity. At a height of 400 metres you can gaze upon the sea and feel like you are floating mid-air. It also offers the perfect chance to visit the Island of Capri and take a trip between the sea stacks or the romantic Blue Grotto on board a gozzo caprese, the typical boat of the island. The ultimate for a couple getaway in Italy.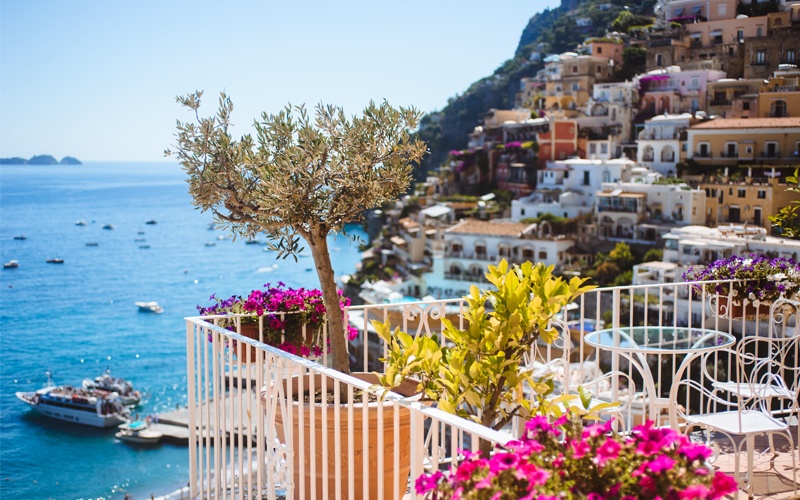 Among the snow of Le Marche mountains
A couple getaway may be the chance to break the routine, rediscover peace and make up for lost time with your soul mate. So cancel all your commitments, slow down the pace and turn off your cell alarm: nothing is better than a vacation in complete relaxation on the slopes of Le Marche mountains to rediscover yourself and rejuvenate the perfect harmony of a couple. Who said that the only mountains are the Alps? You won't regret experiencing the Le Marche winter! With extremely reasonable prices, the snowy Apennines will win you over. It's all downhill skiing in the north of the region: Monte Catria, Monte Carpegna and Monte Nerone, all in the provinces of Pesaro and Urbino, offer a really valid alternative fare away from the chaos of crowded sites. Ski runs, snowboard parks or routes for hikes and snow walking in uncontaminated nature. A fascinating alternative in the centre of Italy.
Sicily for explorers
Full immersion on an island with an ancient history that includes culture, the sea and fine cuisine. Sicily is our suggestion for a couple getaway in Italy that is romantic, memorable and unusual. This island in the centre of the Mediterranean has always been a cultural melting pot and is a destination that can satisfy any type of request. We highly advise a trip during spring in the car, perhaps with the top down and the wind blowing through your hair, staying in a location as a base for the many daily excursions. The natural reserve of Zingaro, close to San Vito Lo Capo, is the right place for a boat trip or to discover a rugged and unfrequented cove with a dive into the Mediterranean surrounded by a breathtaking landscape. For history lovers it is impossible not to visit the Valley of the Temples in Agrigento that will take you back two thousand years at an UNESCO World Heritage Site. Sicily is also the perfect destination for food lovers. You must surely have heard about delicacies such as arancini, cannoli, cassata and pane cunzato. A couple getaway in Sicily can be the chance to learn about culinary culture, because there is nothing better than giving in to temptation when on holiday.
In a rubber dingy over the rapids of Umbria
Relaxation is one thing, but what if you can't resist a dose of adrenaline? The solution may be a rafting trip for two over the Marmore Falls with a stay in the heart of Umbria. Along the three kilometres where the Nera River flows rapidly through the falls you can enjoy great descents on a dingy, either in a couple or group. A unique and adrenaline-filled experience that will undoubtedly leave your partner amazed. If a dingy trip is not your cup of tea, what about rafting, hydrospeed or kayaking to delight in the speed of water or a river walk if you want to cross the Nera in another way.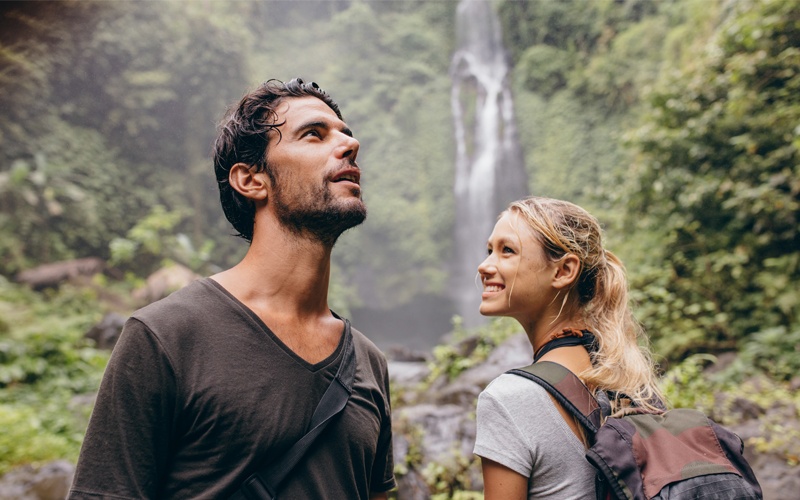 Umbria is a region that is known throughout Italy also for its excellent food and the amazing landscapes that it offers. Apart from visiting the falls, you can also take a trip to the amazing art cities of Terni, Assisi or Perugia and why not stop at a traditional restaurant to try Umbrian delicacies. What's more these areas are not far from Rome and you could also take in a visit to the Eternal City.
Gradara in the footsteps of Paolo and Francesca
For a couple getaway, we also suggest that you visit the town that formed the backdrop to the romantic story of Paolo and Francesca, narrated in the Divine Comedy by Dante. Gradara, close to Pesaro is a fairytale site with an ancient feel. Enjoy a walk through its streets, particularly in the evening, with the rock beautifully illuminated and surrounded by ancient oaks that offers lovers a romantic stage in which love, poetry and history come together in an amazing landscape. Gradara is also on the border between Le Marche and Emilia Romagna and can be an excellent base for day trips to discover the culture of nearby Urbino or for lively evenings on the Romagna Riviera that is only twenty kilometres away.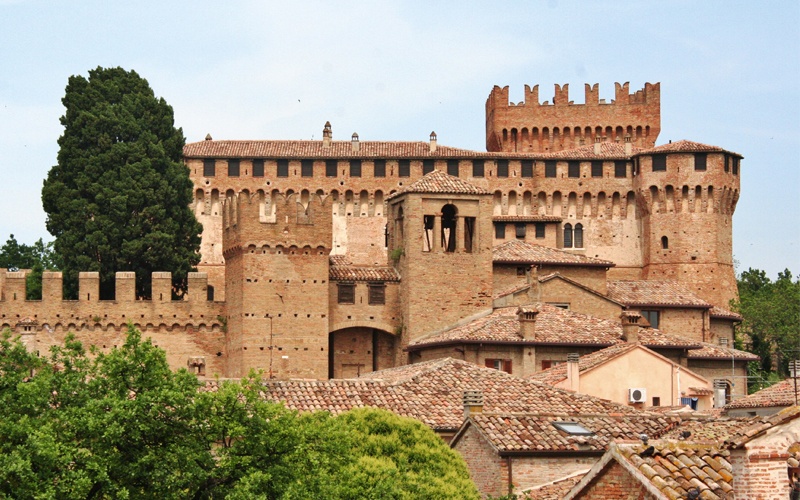 A romantic getaway: Italy has something to offer for all
Wedding or not, the arrival of the summer can be the right occasion for an unexpected "honeymoon", a getaway to recover from the stress of everyday working life. The destinations for couple getaways in Italy are many. Chose along with your partner in line as you both wish or design a surprise trip for the one you love: there are endless possibilities including relaxation, art, history, wine and food tasting, sport and nightlife.
It is often thought that the trip of your dreams has to be outside of Italian borders, but nothing could be further from the truth. With its beaches, nature, mountains ad breath-taking landscape, Italy offers real alternatives for long stays as well as the pure passion of an impromptu getaway.
Every corner of Italy offers pleasant surprises in which the most famous destinations combine with the less well known and intimate. If you are already in love or if you want to win a heart, take off with your sweetheart to discover Italy.
Have you already looked at all the proposals? Discover them all!
Here's a small preview of the villas for your romantic getaway in Italy!