The Carnival of Fano is the most anticipated local festival in Le Marche and is also one of the most popular in Italy, with over 100,000 visitors. Three days characterised by extraordinary parades of highly decorated papier-mâché floats, tons of sweets thrown to the crowd and many other amazing events. A date not to be missed for adults, children and for our 4-legged friends ...
A bit of history of the Carnival in Fano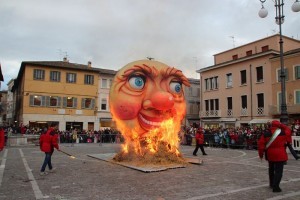 The typical carnival celebrations in the city of Fano are described in a document dating back to 1347.
Since then the event witnessed constant growth and in 1871 a committee was set up to organise the event.
The winter edition of the carnival is the modern version of the ancient rite of the "scapegoat", ending on Shrove Tuesday afternoon in the central town square XX Settembre, where the Pupo - a symbolic puppet - is burned, allowing local people to atone for their sins originating from the indulgent carnival atmosphere.


The event
There are three main dates dedicated to this celebration. The huge floats built by the historic groups of Fano parade along with masked people, bands and folk groups in the avenue Viale Gramsci, which on this occasion is set up with galleries where the public can enjoy the show.
The floats follow the 2km avenue for 3 times, preceded by the float with the famous Pupo. The first tour is the one of presentation; a recurring theme is the political satire, interpreted through the giant papier-mâché characters and structures in foam, up to 16 metres high.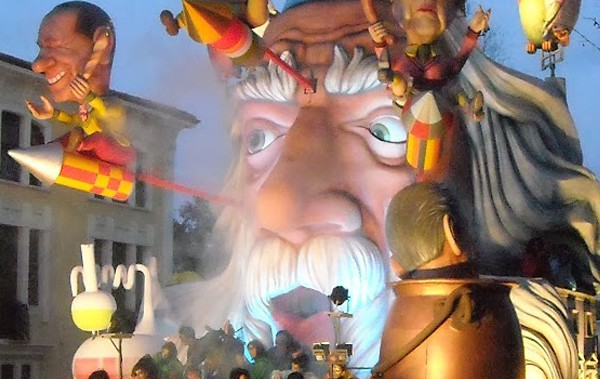 The second tour is the one known as the Getto, when sweets are thrown to all participants who are waiting for this moment with great excitement. Tons and tons of candies, chocolates and other sweets rain down on the crowd which is equipped with characteristic cones in which to collect the 'loot'. Others prefer to use alternative but not less efficient methods... ;)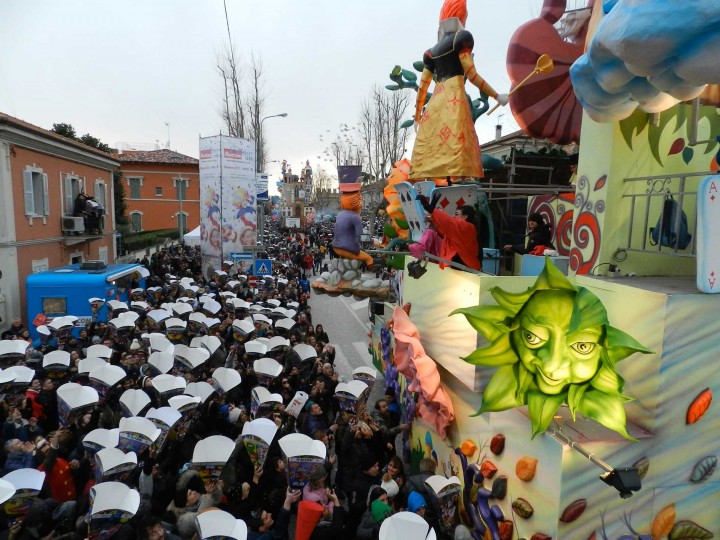 The last tour is the one of Luminaria (illumination), which takes place late in the afternoon. On this occasion the floats light up in the dark creating a play of lights and colours. Another typical entertaining component is the Musica Arabita, a group of musicians using objects of various kinds to produce music in addition to the normal instruments.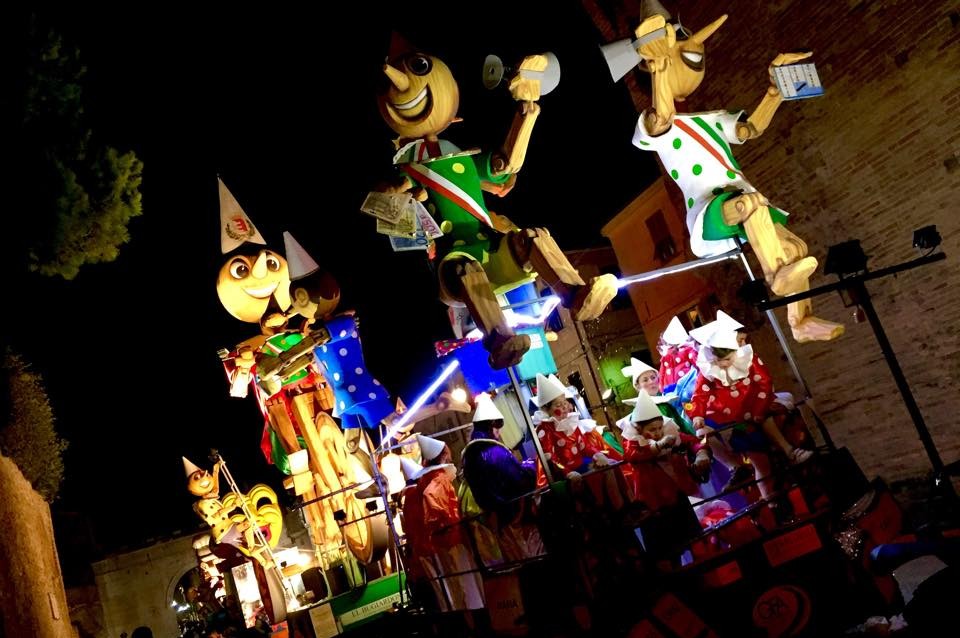 This event is designed for the entertainment of any kind of public, but there is a special moment entirely dedicated to children: the Children's Carnival. Floats and costumes made just for children are put on display before the main parade. Even your dogs can take part in the carnival and parade during the events organised in specific areas of Fano, for a quiet yet funny walk.