Holidays are sacred. They are precious moments that we look forward to all year round, allowing us to reclaim our free time and manage it as we see fit!
Choosing to spend your holiday at a villa with a swimming pool can be motivated by several factors.
Certainly, one of the main ones is the desire to relax, to savour each moment calmly and reclaim time for ourselves and our loved ones, without always being in a hurry as often happens during the working year.
How many times have we left our suitcases at the entrance and instantly set off to explore every room! Children are real pioneers in this. As soon as they arrive, they drop their mobile phones, electronic devices and toys and they will probably be the first to find a friend!
Even our animal friends head off to find their place!
The house welcomes and embraces us, giving us a holiday full of experiences even without having to go out every day. We must't let that beautiful barbecue on the porch that we have seen again and again in the photos, imagining sunset barbecues with friends and family, go unused!
Staying at the villa offers the opportunity to try out different activities, either organised by our agency or created on the spot by you!
Holidays in a Villa: services offered by the agency
There are many activities that the agency can organise for guests. The key word is 'personalisation', because everything is designed to meet your specific requirements and needs. For this reason, too, there is often no standard price list, rather an ad hoc service is created together with the customer.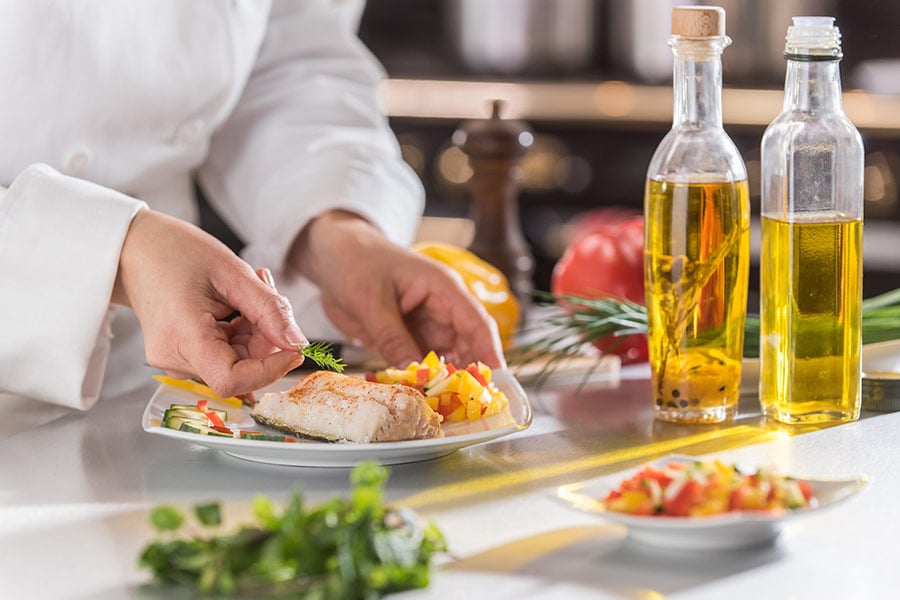 So what services and experiences can be requested during a stay at a villa? Let's take a look together:
- Private chef: to enjoy the villa and have a unique culinary experience at the same time. We can organise one or more evenings with an experienced chef who will come to your villa to delight you with delicious local dishes. You can choose the type of menu, the number of courses and the drinks. Don't worry, the chef's team will always clean and tidy up after the service. The ideal choice for celebrating an event or spending a magical evening together!
- Shopping on arrival: the convenience of finding the fridge full when you arrive is second to none! A few weeks before arriving, guests can send in a detailed shopping list and they will find everything already stocked in the pantry. Our tips? Ask for some typical local products such as oil, wine, honey and jams.
- Cooking classes: learning how to make typical local dishes, but, above all, having fun with your fellow travellers, including children! Pizza, fresh pasta, jams - it's up to guests to decide which recipes they want to try. Then, after cooking, you eat everything that has been prepared!

- Visits to wineries and tastings: depending on the area in which you are staying, the agency can take guests on a tour of selected establishments to taste typical local products. Wine, oil, cured meats, honey, cheese: with an expert you will discover the places where they are produced, the processes and, last but not least, you will taste them! We can also organise sumptuous aperitifs or themed dinners on request. If you have wine tasting in mind, you can also request a transfer service, so that everyone can participate in the tastings.

- Bike rental: road, racing, mountain bikes and electric bikes, we can organise daily rental or for the duration of the stay. The advantage? With us, the bikes will be delivered directly to the villa you have booked and you can reserve your preferred model and other equipment in advance.
- Charter services for boat excursions: an exclusive way to experience the sea and reach beaches that are not accessible by car. From the beaches of Monte Conero to the coves of the Amalfi Coast and the nature reserves of Sicily, you can book a day or half-day boat tour. At specific times of the year you can also fish with your skipper. The excursion usually includes an aperitif, lunch or dinner, depending on the duration of the outing.

Have we convinced you? We haven't finished! We have more tips to help you get the most out of your holiday at a villa with pool!
Holidays in a Villa: use your imagination!
In addition to the services we offer, it is essential to let your imagination run wild on holiday and enjoy simple but unforgettable experiences.
Our villas are spacious and cosy, so making the most of them is a must. 😉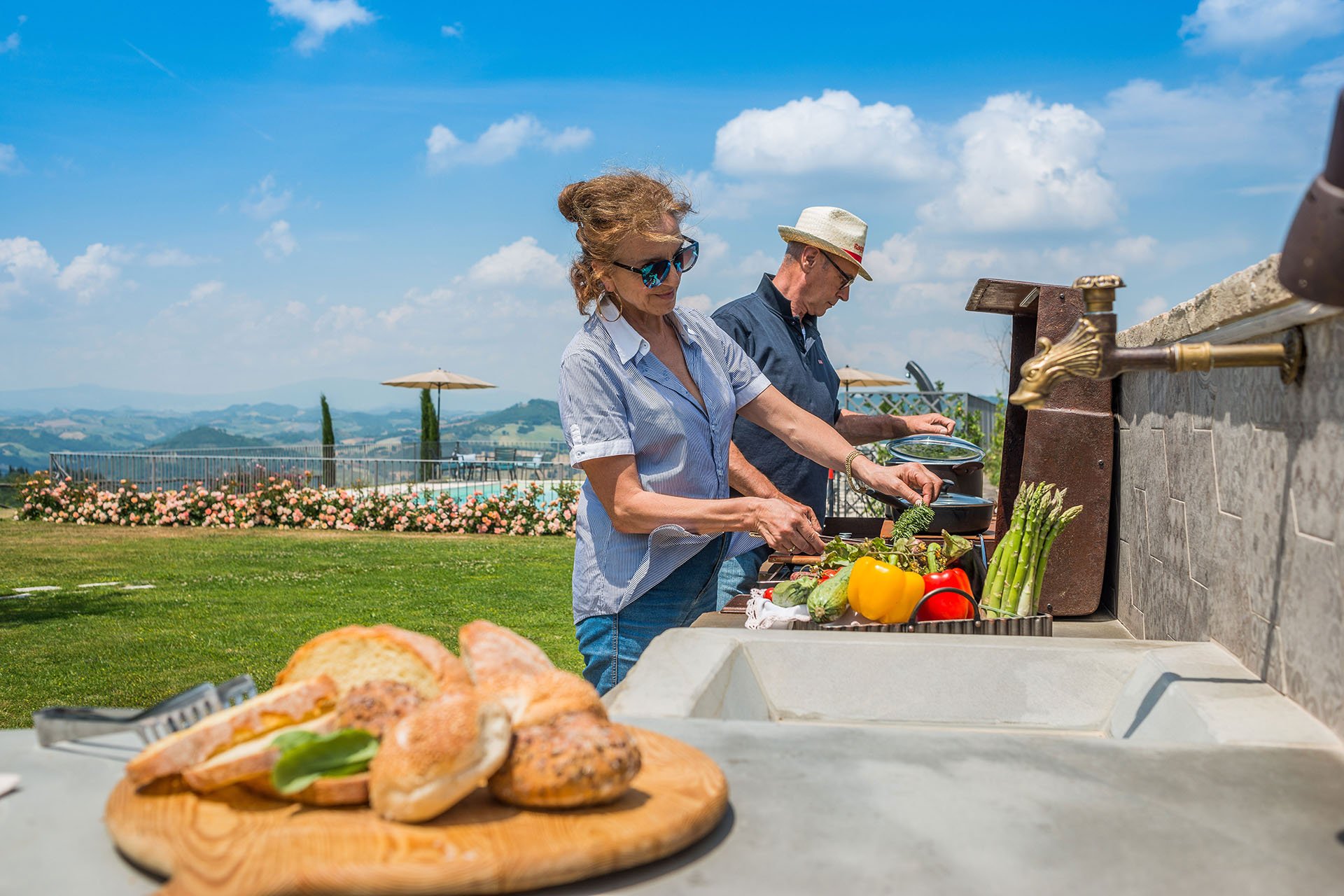 Why not getting involved in a wide variety of activities? Here are some of our ideas!

- Barbecue at sunset: the true taste of summer, especially for those who live in the city. Enjoy every moment, from selecting the best meat and sauces to setting the table on the porch, caressed by the cool evening breeze!
- Relax in the pool: one of the most important things is the pool! It is ready to welcome you at any time of the day, refreshing you and providing a backdrop for parties under the stars. Here you can organise games for young and old, swimming competitions and moments of complete relaxation, sipping a good wine, listening to music or reading a good book.
- Outdoor games: the vast majority of our villas have large open spaces, so you can organise a multitude of games and activities in complete safety. In between treasure hunts and hide-and-seek, time will fly by at its most carefree. What about the adults? The tables on the porch, where the shade offers some relief from the summer heat, are the ideal place to organise card tournaments and enjoy board games. Many villas also have ping pong tables, billiards, table football, trampolines and playgrounds... great fun!
- Watching the sunrise: Getting up early to enjoy the sunrise from a scenic spot is a very emotional moment. Besides, you're on holiday, so you can go back to sleep right afterwards or take an early morning swim!
- Looking at the stars: For all those who find it hard to get up early in the morning, lying in the meadow under the starry sky shouldn't be missed. During August you will also likely see some shooting stars!
Between the services organised by the agency and the activities designed by you, there will be no time for boredom during your stay at the villa!