If the Hollywood stars choose the Bel Paese for their weddings, then why shouldn't we choose Italy for the honeymoon? At the top of the list of the world's most romantic honeymoon destinations, we have Italy, which from north to south, offers endless opportunities that can be adapted to suit the tastes of any newly-wed couple, as well as bringing them unforgettable moments of happiness. Whether you choose beaches, mountains, art cities or locations that are symbolic of romance, there's no need to go to other side of the world to experience a magical, unforgettable period, and hopefully, at a budget that everyone can afford. Our wonderful country can offer you a wealth of occasions for travel, whether it's a relaxing luxury holiday, a culture trip or fun.
If you listen to the advice of our guide, then you will see why you should choose Italy as a honeymoon destination, with ideas for locations that will give you a perfect mix of good food, great wine, art, culture, and landscapes, as well as the warmth that only the Italians are able to provide.
Why travel around Italy for your honeymoon? Six unmissable ideas!
An eternal story can only begin in Rome.
If Italy is one of the most romantic places in the world in which to say "Yes" as well as for an unforgettable honeymoon, then Rome is the ideal place to start. There's romance in every corner of the Eternal City, starting with the splendid Piazza del Campidoglio, designed by Michelangelo, and on to sunsets at the Imperial Fora. And how could you miss out on the Colosseum, the Ara Pacis and the many other monuments that tell the glorious past of the Roman Empire?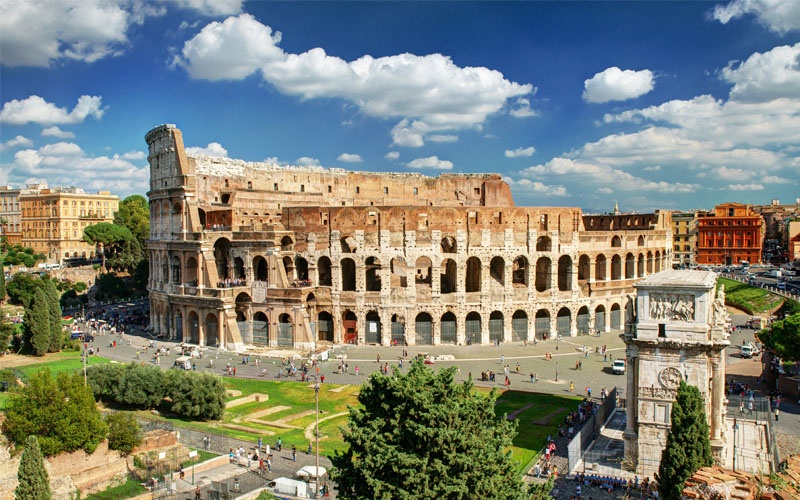 Walking is one of the best ways to visit these beautiful spots, and to get a feel for the ancient and modern pleasures of the city. You can also take a rest and go to eat in one of the countless restaurants in city centre, enjoying the typical Roman specialities, including the most famous dishes in Italian cuisine.
Chiantishire: authentic Italy with its hills and vineyards
The Americans call the hilly area of Chianti, between Florence and Siena, "Chiantishire". It is a place that the whole world envies us, and how could anyone not fall in love with its villages overlooking the vineyards, or the panoramic views that turn different colours and shades according to the season? Here, time seems to have stood still and as well as the vines, olive groves and historical villages, there are lots of castles where visitors can get a feel of being princes or princesses of the Renaissance.
When we talk about the Renassiance, then of course a visit to Florence is a must. It is an excellent destination for lovers, with its art works that are famed throughout the world, and where lovers of great food and wine will be spoilt for choice. The feeling of peace and tranquillity throughout the countryside, where one of the world's most famous wines is grown, is another reason why Italy is the perfect choice for a honeymoon.
Discovering Sicily by car
A honeymoon that's all about exploring an enchanted island? If you're seeking adventure not too far from home, then Sicily is the one for you! Setting out from Palermo, the capital, where you can enjoy the luxury of losing yourselves in the little streets, home to artisan markets and street food, you can hire a car and get about easily all over the island. There's no shortage of destinations to suit all tastes: an excursion on Etna, Europe's most active volcano, a stop off in Taormina, strongly recommended for those who love art and antiquities - and the same applies to Agrigento. Since we are talking about an island in the middle of the Mediterranean sea, we can't forget the most famous beaches on Sicily: from the Zingaro Nature Reserve in Trapani to the Scala dei Turchi beach in Realmonte, near Agrigento, via the stunning little islands dotted around Sicily and reachable by ferry service, such as Favignana, Lampedusa or Filicudi.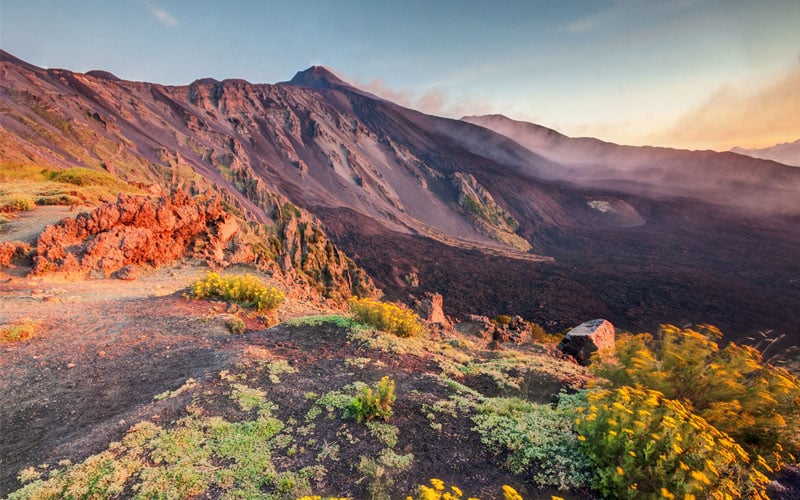 Touring through Le Marche
Why choose when you can have it all there? In just a few kilometres, the Le Marche can show you the very best of Italy: the rolling hills of Recanati, the crystal clear sea of Sirolo and Portonovo, the majestic Sibillini Mountains, stunning gorges and caves of Frasassi, the small villages of Jesi's castles, and art cities such as Urbino and Ancona. Le Marche are an ideal destination for all tastes, so why not think about a touring honeymoon that takes in all of these wonders? You can sleep in a private villa with pool and panoramic views of the sea or the Apennines, take part in the grape harvest that will go to make Rosso Conero wines in the wineries of Ancona, or spend a day deep sea fishing with lunch consisting of the day's catch in San Benedetto del Tronto.
The famous Piazzetta on Capri
Capri is famed for a type of glamour holiday, with a pinch of old-time elegance, and as such, it could only be a perfect Italian honeymoon destination. As well as its famous Piazzetta, the ideal setting for an aperitif, Dolce Vita style, there is a less well-known and therefore, less crowded part for those who love unspoilt, natural wonders. Here, and also on Ischia and Procida, there are panoramic views that will offer you unforgettable views, above all when chosen out of season. Capri, a firm favourite with international movie stars, is the ideal place for a romantic break, from one walk to another, just a few steps from the famous and indescribable panorama over the sea and the "faraglioni", tall rock formations that emerge from the waters and have always been the symbol of the island. There is no shortage of things to do: swimming in the caves along the cliffs, taking a speed boat to Naples, or hiring a boat and going off in search of the island's wild, exotic bays.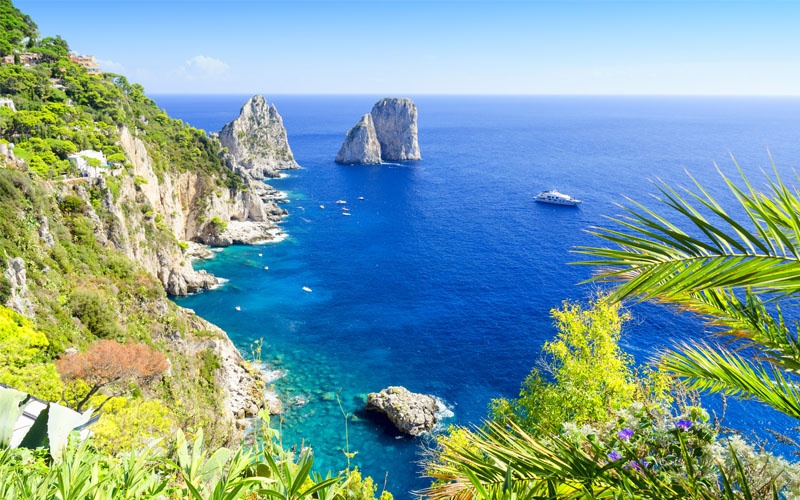 Relaxation with Alpine wiews
The Alps are the natural confine in Northern Italy, with some of Europe's highest mountains. Those who love mountain activities, Bagni di Bormio (province of Sondrio) are an authentic and increasingly popular destination, offering all of the majesty of nature together with the essential touch of chic that necessarily goes with a choice of honeymoon destination. Although still relatively unknown – and it deserves to be more popular – you will find excellent beauty treatments, open-air pools, saunas and massages for relaxation with Alpine views, snowy peaks and fabulous scenery...everything you need to travel around Italy for your honeymoon that's all about relaxation. And if you fancy some winter sports, then why not enjoy a winter honeymoon with skiing in some of the resorts and cuddles in front of an open fire?
Reasons Why. Italy's infinite offers
By now you will have understood why travelling around Italy for your honeymoon is a perfect choice, in the footsteps of so many VIPs and celebrities from the world of show business, who make it their favourite holiday and travel destination. Italy has always been a major destination and for important, unforgettable occasions such as a honeymoon, it can offer thousands of alternatives to ensure you make the perfect choice when it comes to making memories. Every location has its own wonderful surprises that you can discover, day by day, in a thrilling journey through history past and present, also told through the many different cultural, artistic and musical events that happen here.
Have you already looked at all the proposals? Discover them all!
Here's a small preview of the Villas thought for your italian honeymoon!