Whoever says beach holidays are boring is wrong!
There are many
activities
that you can do at the
beach
, alternating moments of
relaxation
with
new experiences
. Some people take the opportunity to try new
sports
, others have a pile of
books
accumulated on the bedside table to read and take them to the beach, others instead organise a different
activity
every day.
Le Marche beaches offer the right compromise between the search for relaxation and the chance to live new experiences. Most of them are managed through private bathing facilities, often family-run and very well organised to meet every need, both of adults and children!
Let's discover together some activities you can do at the beach, at all ages!
Activities, games and entertainment for children
For children, a seaside holiday means running free, playing, meeting new friends and doing activities while having fun.
From the journey to the arrival at the holiday home, every moment for them is full of joy and wonder.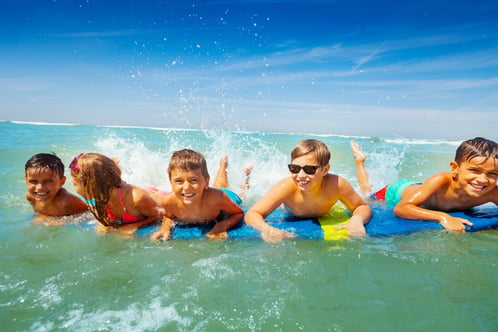 But we also know that children easily get bored, which is why it is important for the family to spend the holiday in well-equipped resorts that can cater for everyone's needs.
The beaches in Le Marche are particularly suitable for children, thanks to the large space and shallow waters.
There are many activities organised by the bathing facilities for children to take part in, let's see some examples together:
- entertainment: organised by professional entertainers who fill their days with different activities, such as treasure hunts on the beach, group dances, sandcastle competitions;
- educational workshops: playing with colours and painting, learning to make origami, short theatre courses and ecological walks are educational activities made to entertain kids!
- sports tournaments: mini golf, volleyball, football, basketball, table tennis and much more! Beaches are equipped with monitored fields for all kinds of sporting activities;
- playing and inflatable areas: for the youngest children, bathing facilities generally offer an area with swings, slides and small plastic toys, as well as inflatables on which they can climb, all in complete safety;
- swimming pools and slides: some bathing facilities also have shallow pools, slides and water games, a perfect alternative to swimming in the sea;
- pedal boat rental: a wonderful activity that involves the whole family! You can explore the sea and move a little further in complete safety, organising swimming and diving competitions.
The beach is a free space where you can let your imagination run wild! In addition to organised activities, children will find opportunities to develop their creativity and invent games. Wonderful sand castles, necklaces and bracelets made from shells and competitions with marbles will be the end result.
Experiences and activities for adults
And after a long year of work, even the grown ups need to enjoy a well-deserved holiday!
Travelling as a family sometimes means finding yourself with young children bouncing around your bed at 7 am full of energy and ready for a day at the beach.
That is why it is essential to choose the right destination and type of beach so that the holiday is relaxing, fun and enjoyable for everyone.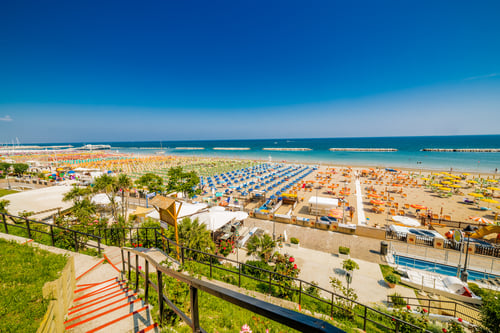 Let's find out some activities for adults at Le Marche beaches:
- sports activities: bathing facilities are equipped with dedicated sports areas for beach volleyball, basketball, football, tennis and many other activities. A match with friends and then a dip in the sea to cool off - what's better than that?
- SUP courses: this sport is worth a special mention, as it has become very popular in recent years at the beaches of Le Marche region, thanks to its calm and shallow waters. SUP stands for STAND UP PADDLE and is a variant of surfing where you stand on a board using a paddle to move around;
- yoga at dawn: an unforgettable experience! Slow movements, breathing exercises while the sun rises will unleash an energy and vigour for the whole day;
- lunch at the beach: eating by the sea, enjoying fresh fish is one of the most satisfying experience when on holiday. Local restaurants offer a great choice of fish, meat, vegetarian and pizza menus! All served a few steps from the sea, with flip-flops on your feet and the smell of the sea on your skin.
- card tournaments: sport for...the sedentary! Buraco and pocker tournaments with final prizes, in the shade and sea breeze;
- evening activities: Le Marche coast has a tourist programme of events of all kinds. Every evening there's something to do, the seafront is the meeting place where you can walk, watch shows, open-air cinema, concerts and take part in the local craft markets.
Now there's only one thing left to do... organise a beach holiday in Le Marche with your family!