Visit Italy with family, choosing a holiday destination that might satisfy the needs of the whole family can be really complicated, regardless of your children's age.
Organising a stay that meets everyone's interests is not so easy. For example, some types of holiday are not particularly suitable for children, who undoubtedly have different preferences compared to adults or teenagers.
Many people visit Italy every year. Millions of tourists come from all over the world and a lot of them often return to explore further this Land that never ceases to amaze: seaside and mountain resorts, cities of art, natural and amusement parks. All of these Italian destinations are ideal for families who want to spend child-friendly holidays.
Whether your stay is for a week or a month, you'll have so many things to do in Italy with your family, more than those usually listed in the tourist guides. Don't miss the opportunity to discover ancient traditions, typical local food and friendly people.
Here are some tips to fully enjoy your stay in Italy.
Make the trip fit to your family and not vice versa
Choosing the right destination for all family members, especially for the little ones, brings benefits and tranquility mainly to parents: the more you have fun, the more you enjoy your holiday.
If your children are 6 years old and up, the choice for a holiday destination will certainly be much wider. However my suggestion is to discard holidays that are too focused on museums and art galleries: your children may get bored and make your stay tiring. This kind of holiday works if your children are teenagers, but in this case any destination in the world could fit.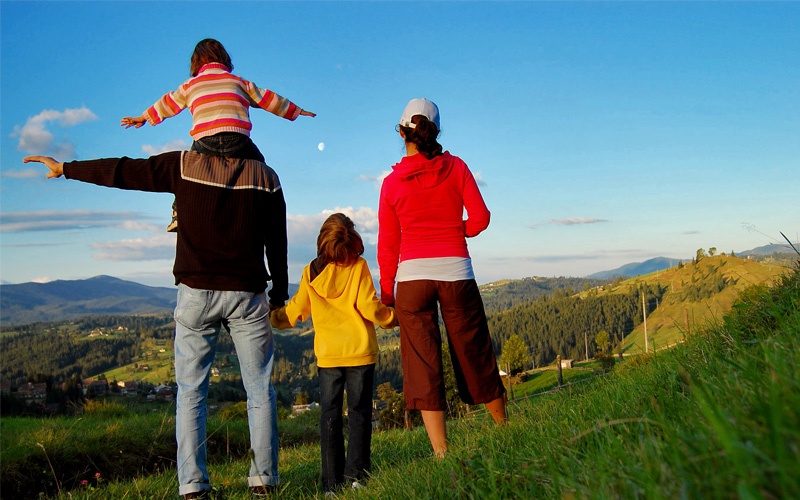 Keeping in mind your personal interests can help you planning the trip to suit every member of your family, but don't panic! Italy is a welcoming country made for families, whether they're small or large, young or adult.
You'll be able to visit every corner of the Italian peninsula with the whole family.
Your family at a History lesson
Every place you visit in Italy, whether it's in the north, in the south or in the centre, has many layers of history. From the Romans up to the Renaissance, with some traces of the twentieth century wars. It can be boring to stop in front of a painting, walk through the streets of a medieval village or sit in a Roman amphitheatre if you don't know where you are. Especially when your children don't know what and why they are visiting something, this can ruin your well-planned trip. Your stay will surely be more interesting and engaging if your children have the opportunity to experience directly the context they are visiting and which they'll surely find in their history books. How nice for them to open a book and say, "Oh, I've been there!"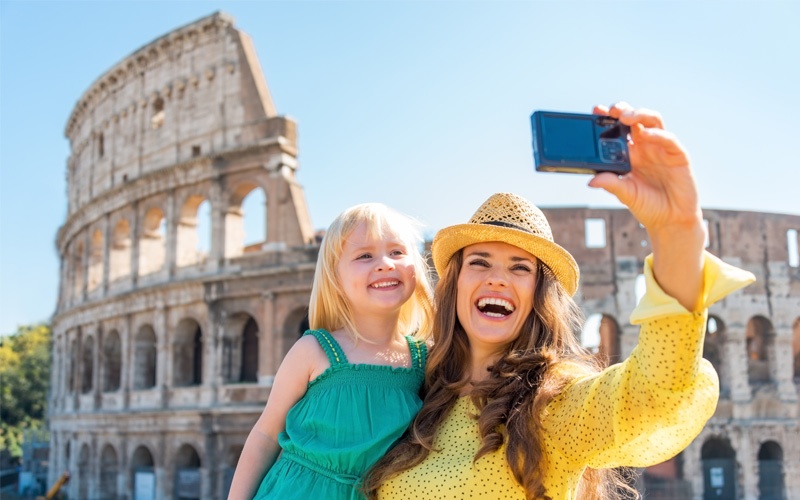 How to get around?
Transport system in Italy is quite easy to use, but before starting your journey it is always good to know a bit more about the transport routes for your itinerary.
Italy is covered by a dense railway network, which is fundamental and comfortable to reach almost all the tourist destinations of the Peninsula. A basic rule to remember: always validate your train ticket before getting on the train! It is not a long or even difficult task, but things get much difficult when you are late and are still wandering in the train station looking for the right platform with your small kids and luggage hanging off a stroller. A simple oversight might cost you a hefty fine.
Routes and railway lines cross Italy passing through mountains, valleys and fairy tale coasts. That's all included in the price of your ticket! It is common to see children and adults looking out the window, enjoying the slow changes in landscape as the train rides along the tracks.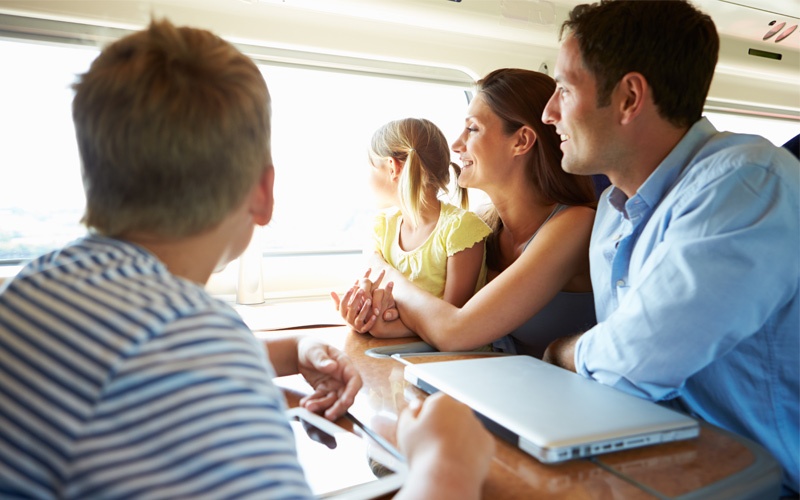 Train is a great way to get around the big Italian cities with children, but if you are going to visit villages nestled among the hills, small villages by the sea or hidden places in the mountains, the most appropriate and smartest choice is renting a car. A car is definitely much more comfortable for those families used to their own schedules. You can also get to destinations not covered by the railway line with the car.
If you are worried about driving on a road you've never travelled on, Italy is well supplied with buses and taxis available to drop you and your family throughout your pleasant holiday.
Eating and sleeping in Italy with the family
When you get to Italy, you will only have to worry about where to stay with your family, because finding a place to eat will not take much effort.
Hotels have their advantages, but apartments or holiday houses allow you to live like at home. You can cook for your child if he follows a specific diet, for example.
If you don't have restrictions on eating, Italy is the right place for you! Italian cuisine is the most famous and popular in the world, and Italians know that. So once you arrive in Italy, be prepared to eat Italian food only. Before going to any restaurant, tell the children it will not be like at home.
Don't be afraid if almost all places to eat are closed in the afternoon. In Italy dinner is served after 7:00 pm and your hungry faces stuck to the restaurant window at 6:00 pm will not change the situation!
Unless your child is already used to have dinner later at that time, we suggest you to prepare their dinner first.
Italy offers different catering options. Agriturismos, inns and pizzerias are more informal and affordable, whereas restaurants are more formal. Don't forget that all Italian countries have a weekly street market where you can buy everything, especially local genuine food. A good chance to have your favourite dinner directly at home.
If you are looking for a holiday apartment or villa, always inform the owners about the presence of kids and tell them their respective ages. Italians love to provide everything they have for their guests, so you will surely find a baby cot and high chair! Italian culture is focused on family and local people will do their best to put you at ease.
Don't carry the weight of a bulky stroller
Among narrow or crowded streets, wide gardens or steep stairways, getting around Italian cities can be sometimes a bit uncomfortable with a bulky stroller. If your child still doesn't walk or cannot do it for a long time or distance, you should consider to carry also a baby pouch. If your children have just started walking and are so excited to do so, always keep them close to you, especially when walking through busy streets with cars and motorbikes.
Pram, stroller or baby pouch? The best solution depends on where you're going
Will you always be on paved roads or will you also go off the beaten track, maybe on mountain paths? Will it be hot or cold? What is your child used to? A lightweight and foldable stroller is often the most adaptable solution. It's easy to carry and can be used as a bed for a nap, you can cover it when it's raining and use it almost in all types of terrain.
Don't hurry, take it easy
If you usually get up from your seat on the plane before landing, trying to move among people waiting for their luggage and constantly checking your watch, well, it's time for you to stop! That kind of holiday is over. Make yourself comfortable and let other people be in such a hurry.
When you go on a family holiday, it is essential to simplify your trip plan: you cannot see everything! The reason why Italy is visited many times by the same tourists over several years is because there are too many attractions to see, landscapes to view and experiences to live. Perhaps one life is not enough.
So slow down and enjoy the break. Of course, this doesn't mean you have to be totally unprepared when arriving in Italy, just be organised but without exaggerating!
Trying to organise something that could amuse the kids is obvious, but be careful not to turn your holidays into a military exercise. Instead of planning your visits on a strict scheme, just write a reminder with the most significant sights and make a stop if you've enough time.
Just see as many things as possible, then you can always come back! Think about what your children like to do and include a bit of culture and fun activities on your itinerary.
The magic of a family holiday
By this time, you should have arrived in Italy, one of the most loved and visited places in the world. Find some time to immerse yourself in the Italian lifestyle, traditions, nature and history.
A family holiday is something truly special and when it happens to visit Italy, this experience will always remain in the memory of the children and their parents. The great diversity of the Italian Peninsula will fascinate even the most lively of your little fellow travellers. Italy is a fantastic place to travel with your family, all people in Italy love children and do everything in their power to give them a give them a good time.