One of the main concerns for a parent arranging a family holiday is safety.
It is important that the holiday is as fun as possible and, at the same time, safe for your children so that everyone can enjoy a well-deserved and carefree rest!
Children love the sea and the beaches in Le Marche area are a truly safe place for an unforgettable trip with your family.

Do you want to know why? I'll tell you!
Child-friendly sea
The Sea in Le Marche has the ideal features for welcoming a family with children of all ages.
The long Adriatic coast is full of beaches, both public and with private facilities, where you can spend quality time and participate in different activities, according to the age of each member of the family.
With games, activities, sunbathing and chatting under the sun umbrella, time will pass slowly as you rediscover the peace and quiet that we all need!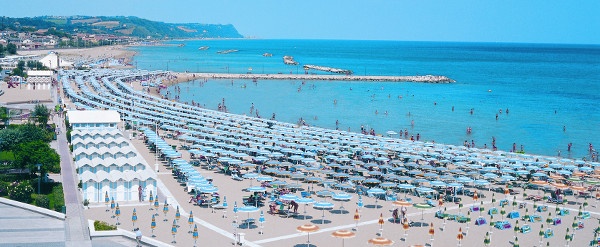 The Adriatic Sea is shallow and its coasts are mainly low and sandy.
In Le Marche you can find different types of beaches, mostly characterised by fine ochre-coloured sand, but there are also stone beaches that give the sea a unique deep colour.
So, what makes the Sea of Le Marche family-friendly?

- Low, safe seabed: it is the main feature of the coast

- Protecting stacks: many beaches along Le Marche coast on the Adriatic Sea feature stacks that run parallel to the shore, making access to the water less dangerous, as they create a sort of barrier against the open sea and make the water shallow for the first few metres, then gradually increasing.

- Well-organised private beaches: private beaches are often family-run, a type of management that is the result of years of experience with excellent quality services. You will find areas used as playgrounds for children, football and volleyball courts, ping pong tables, storage rooms where you can leave children's games at the end of the day, staff specialised in entertainment, courses and restaurants.
- Cleaning and control: the beaches are regularly cleaned, in order to eliminate debris and waste. This cleaning is done both on the public and private beaches.
- Lifeguard service: all beaches are equipped with a lifeguard service carried out by experienced and trained lifeguards who can respond quickly to emergencies and help avoid hazardous situations, especially when weather conditions make the sea dangerous.
- Services and shops near the seafront: near the beaches, there are shops selling everything you might need for the beach (inflatables, costumes, games); often there are also playgrounds, funfair and entertainment shows to round off the summer evenings on a high note.
Everything is designed for families, providing relaxation for the grown-ups and safe fun for the little ones!
Child-friendly beaches in Le Marche
Here is my personal selection of favourite beaches for children in Le Marche.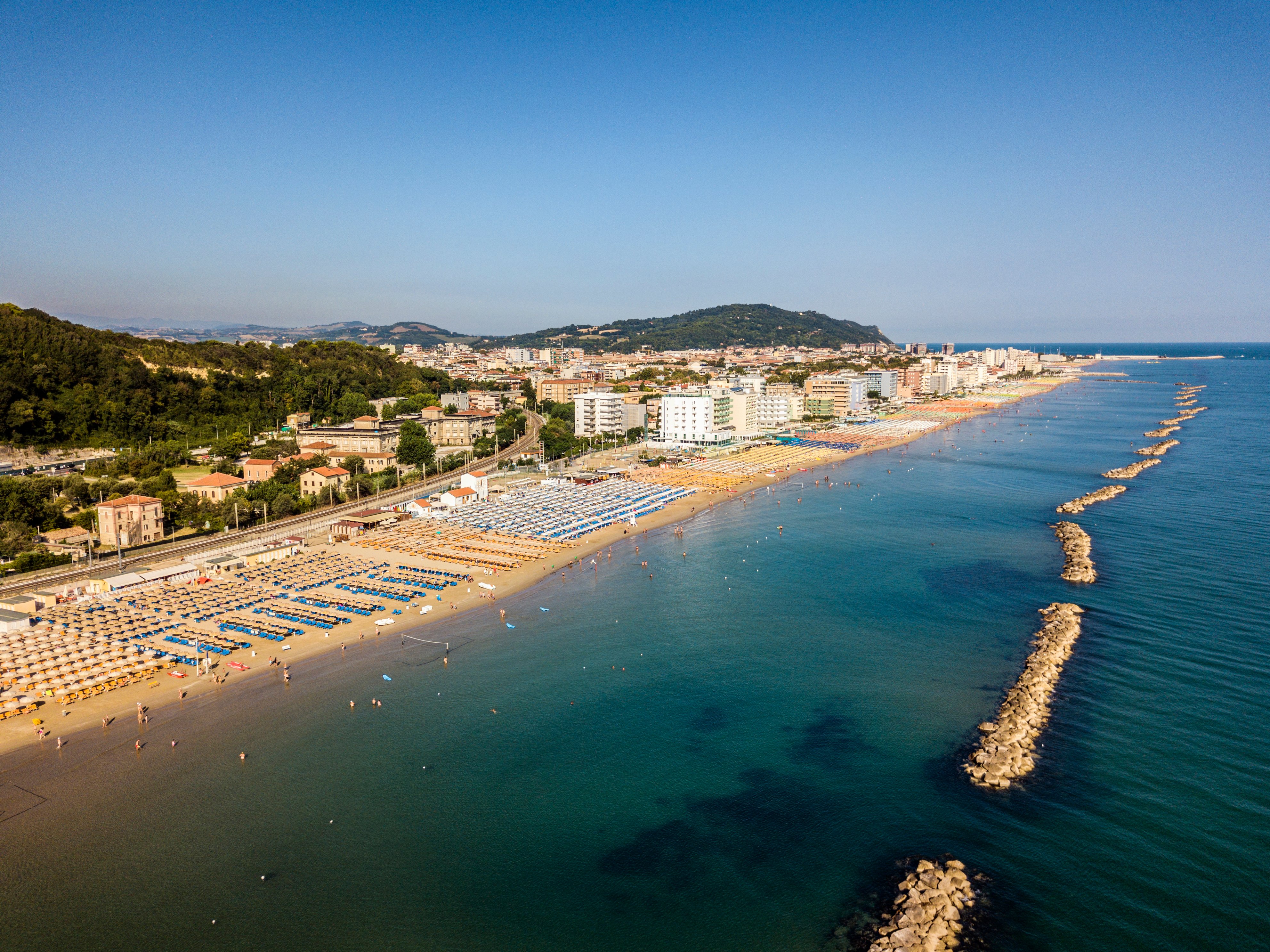 - Pesaro (Pesaro Urbino): public and private equipped beaches, a city centre full of things to see, events and a bike path that runs along the coast

- Fano (Pesaro Urbino): pebble and sandy beaches and a long promenade full of shops and playground areas

- Senigallia (Ancona): its fine sandy beaches are known as 'velvet beaches', the water is shallow and the beaches are very well equipped

- Sirolo (Ancona): for a more active holiday, where you can combine swimming and trekking. The beaches of Sassi Neri, Gabbiani, San Michele and Due Sorelle are not to be missed.

- Civitanova Marche (Macerata): sandy beaches and safe waters, with entertainment options and many shops for high fashion shopping to make even mums happy!

- San Benedetto del Tronto (Ascoli Piceno): the so called Riviera delle Palme, with wide sandy coastlines equipped with every comfort and service.


How to choose the perfect beach?
The variety of beaches along Le Marche coast offers different choice options.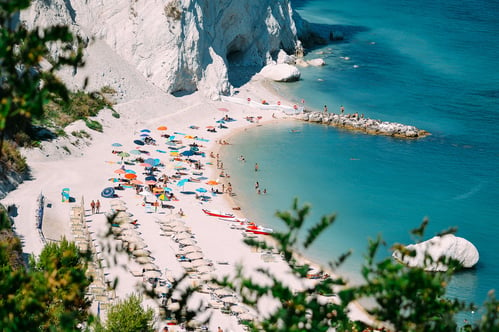 Some people like to sit comfortably under a beach umbrella with a crossword puzzle while their children playing in the water or on the sand, while others want to discover the sea, swimming in the open sea and trying to pass this passion on to their children.
So, how do you choose the most suitable beach for your family-friendly holiday? Follow my advice and you won't go wrong:
- Stone beaches, for expert swimmers: due to their nature, stone beaches are located in places where the sea is deep from the first few metres into the water. Without going too far from the shore, you can swim and show the children the beauty of the sea environment, while staying close to the beach so you can return quickly as soon as you get tired. Definitely more suitable for older kids!
- Sandy, shallow sea, for small kids and less experienced swimmers: shallow sea is perfect for small children and those learning to swim, as access to the water from the shore is gradual and does not reach any great depth. In this way, children can swim and play in the water under the watchful eye of their parents and without too much stress. It's far better for the kids if mum and dad are relaxed!